ab ovo, More than just a pullet supplier!
Roadshow 2020 with ab ovo, Germany and Hendrix Genetics
The third edition of the yearly roadshow from ab ovo in collaboration with Hendrix Genetics was organised in the 2nd week of March! The 2020 edition took place in the German province of Bavaria, in the villages Bad Staffelstein and Weichering. Over 65 participants took part in the roadshow, all with a passion for egg production. Among the audience were rearing farmers, egg producers and veterinarians. All participants experienced that ab ovo and Hendrix Genetics do more than just supplying day-old chicks and pullets. In order to achieve the highest genetic potential out of the birds, we invest time and money in sharing knowledge and help improving the results of our customers.
During plenary talks the following topics were addressed: the current status and opportunities of the German egg industry, the test developments in poultry breeding and genetics and how to feed for prolonged laying cycles. The plenary sessions were followed by an interactive poster session (which was highly appreciated by the participants) during which the following subjects, with the focus on feed management, were addressed:
- How to analyse feed particle size by sieving?
- Why and how to apply the empty feeder technique?
- What is the effect of calcium management on eggshell quality?
- What are the most important tips and tricks for start of lay?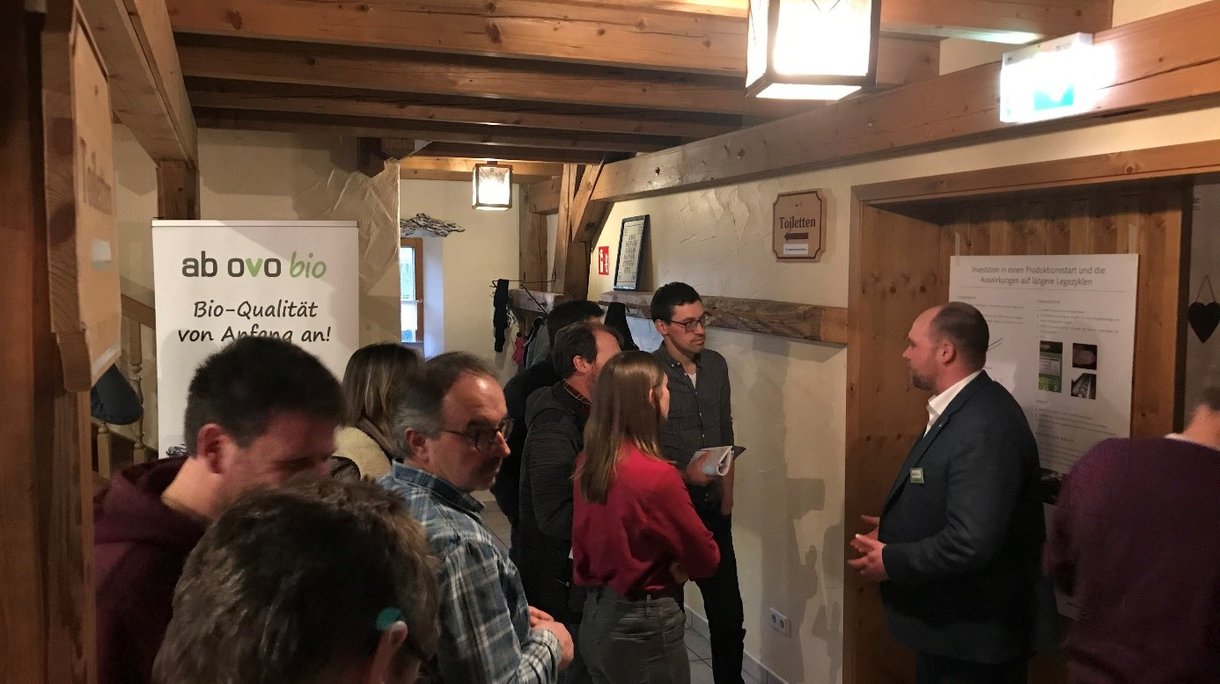 After finishing the lectures and poster sessions, the participants were treated on a schnitzel buffet accompanied with some refreshing beers. The great atmosphere, the open discussions, the great enthusiasm and the inquisitiveness of the participants made this 3rd roadshow again to a big success. Herewith we would like to thank all the participants for joining us in the roadshow. We are looking forward to the next German roadshow, in which we will visit Germanies northern states in spring 2021.